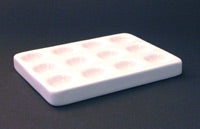 Porcelain Spot Plate, White
SKU:
4130
Spot Plate, Coors Porcelain. White.
Spot Plate, Coors Porcelain. White. Glazed throughout except the bottom surface. 12 hemispherical cavities. Heat and chemical resistant.
Maintenance Recommendations
1. Prolonging the life of your labware can be done by:
   A. Following a gradual heating/cooling rate to avoid sudden changes in temperature we recommend a rate not to exceed 200 degrees Celsius per hour.
   B. Using an oven or hot plate as an intermediate step during the heating/cooling cycle when a quicker rate is required.
   C. Avoiding contact of the heated product with a cold surface.
   D. Gradually increasing flame intensity when using a Bunsen burner until desired temperature is reached.
2. Carefully inspect your labware prior to each use. Do not use any product which appears defective.