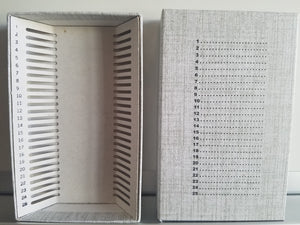 Micro Slide Box
SKU:
1445
This product is no longer available. Please see Petrographic Slide Box Plastic - Blue, Reference # 1444
Micro Slide Box. Cardboard. Holds 25 Slides.
These are heavy cardboard boxes with telescoping cover. The outside is covered with grey linen paper and the inside is white. A white die cut insert holds the slides. The insert for all 25 capacity boxes are numbered 1 to 25 and a corresponding index is printed on the cover. Size: 6 1/8" x 3 7/8" x 1 1/4"