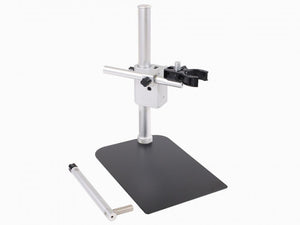 Dino-Lite RK-06A Table Top Stand
SKU:
1320
Lightweight and portable hands-free operation
360-degree horizontal and vertical positioning
Vernier control for precise focusing
The Dino-Lite RK-06A tabletop stand is designed for general purpose and built with quality. With smooth focus adjustment and quick vertical movement, the RK-06A eases the task of focusing when using Dino-Lite microscopes. The ease-of-assembly and adaptable extension arms (2) design add further mobility and flexibility to user's applications. For users that require additional working distance, the optional RK-06-PL extension pole is available.