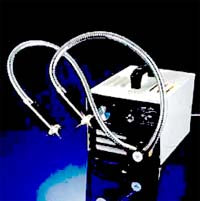 Dolan Jenner Fiber-Lite, 181-1, 115v
SKU:
2101
$97995

$979.95

Save $395.05
---
---
Double light pipe; Light from
Double light pipe; Light from a single source can be directed to two different locations. Size: not including fiber optic pipe- 7-7/8 x 5-1/4 x 5-1/4"; Gooseneck: 18". Wt.: 5 lbs. Color: Black and silver. Material: Metal. Lens: OD 0.88"; slide lock type; 28mm focal length; light spot diameter from 4mm to 73mm. Illuminator: Flexible fiber-optic pipes. Lamp: EKZ. Switch: Four position: low-medium-high-off. Cord: 5 ft.; 3-wire Voltage: 115 VAC Fiber-tic illuminator gives high-intensity "cool light" to illuminate temperature -sensitive specimens. It can also be used with stereo microscope lamp ports for incident illumination and ransillumination. Flexible gooseneck pipe lets you illuminate specimens from a variety of angles. Pipe remains at ambient temperature for safe adjustment. Gooseneck also lets you position the light for reduced glare and increased eye comfort. On/off switch also adjusts intensity to high- medium or low.