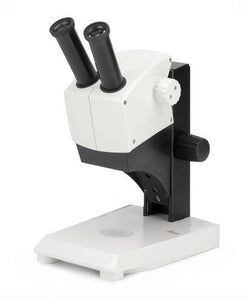 Leica Stereozoom EZ4 Fixed 10X
SKU:
1180
Description: EZ4, with 10x Eyepieces (4.4:1 zoom ratio)
Magnification Range: 8x to 35x
Illumination: LED
Leica No: 10447197
Leica EZ4 Fixed 10X 10447197 is one of the many quality laboratory supplies and scientific supplies we have to offer at very competitive pricing. Leica EZ4 Fixed 10X 10447197 / 15147-844 is part of a wide selection of Leica Microsystems Microscopes. Combining excellent quality with an affordable price, the Leica EZ4 Fixed 10X 10447197 / 15147-844 can meet your scientific research needs while still offering a good value for a budget conscious end user.
Leica E-series Educational Stereo-Zoom Microscopes are ideal for supplementing conventional classroom instruction. The compact and durable design, combined with uncomplicated, user-friendly operation results in a dependable tool that easily integrates into the classroom. The Leica E-series line of microscopes includes three economic models. The ES2 10447197 is a two step magnification starter model. The Leica EZ4 model is available with fixed 10x or 16x eyepieces, or with open tubes. The more advanced EZ4 D is equipped with an integrated 3-megapixel CMOS digital camera.
All Leica Stereo Zoom Stereo Digital Microscopes feature high image quality, color, and detail fidelity. Precise zoom and focusing systems provide exact control, and mechanical precision ensures a long service life. These stereo microscope models are equipped with an energy saving power LED illumination system with a service life of 25,000hrs. for incident and transmitted light. A fixed eyetube angle of 60° is optimal for user comfort, and a 100mm working distance allows easy access to specimens and samples. Every model by Leica Microsystems is constructed with no removable parts to maximize reliability and lessen the chance of lost or broken items. All models have a standard operating temperature range of 10 to 40°C (50 to 104°F).
All Leica EZ-4 laboratory microscopes feature a unique three-way incident light technology feature that provides observers with optimal illumination of a variety of specimens, from strongly structured objects to flat probes. The LEDs in this binocular microscope can be switched individually, dimmed, and combined with transmitted light. This Leica Microsystems Microscope has a membrane switch to control the illuminator is integrated into the microscope base and has a watertight seal.
The Leica EZ4 Fixed 10X 10447197, with its 3-megapixel CMOS camera and Leica application software, allows the direct storage of image data on a 128MB Secure Digital memory card or through connection to PC, Mac, video recorder, or beamer. The application software included with this scientific instrument controls image capture and storage, live image display on connected PCs or Macs, and the archiving and optimization of image data. 2 10x Eyepieces included.
CE marked. CSA certified.