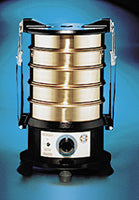 Sieve Shaker, Meinzer II, 115V CALL FOR PRICING
SKU:
4580
Meinzer II Sieve Shaker. Powe
Special Order - Call for pricing & delivery
Meinzer II Sieve Shaker. Powered by electromagnetics, no motor. Quiet operation. Its compact size and light weight makes it suitable for use on a bench top in the lab or in the field. The built-in 60-minute timer and exacting sieve motion ensure precise, repeatable results. Simultaneous vertical and horizontal motion. Holds up to 10 full-height, 8" diameter siever, plus a lid and receiver pan. Footprint diameter: 25.4cm (10"). 115V 60Hz. Weight: 36 lbs.