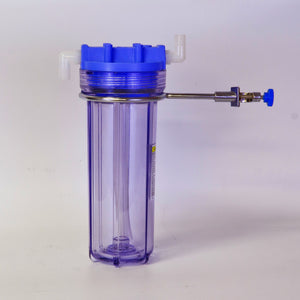 USGI Bubble Jar, Tall
SKU:
8341
10 Inch Bubble Jar. Clear, Heavy Duty Plastic
Clear, heavy-duty, plastic bubble jar is suitable for use at the agitator. The bubble jar is intended to be used with a liquid desiccant such as ethylene glycol to remove water from the gas sample before it goes into the sample line to the logging unit. It comes equipped with 5/8" barb fittings, but can be adapted to any size tubing. A steel ring stand is included (#8340-2).
Fully assembled dimensions (not including ring stand) are approximately:
12" tall (12.5" including barb fittings)
5" wide (7" including barb fittings)