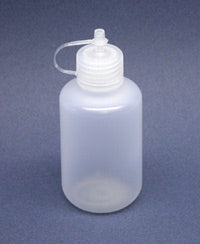 Dispensing Bottle, Nalgene, 125 ml
SKU:
7120
Nalgene Drop-Dispenser Bottle, Low-Density Polyethylene. 125ml / 4.2 oz.
Nalgene dispensing bottle, 125 ml / 4.2 oz. Usable for chloroethane. Made of autoclavable polypropylene, these bottles are usable for dispensing sterile solutions and may be autoclaved full with tip uncapped. They produce a fine steady stream when squeezed. Polypropylene closure with cap attached to bottle is liner-less and non-contaminating.