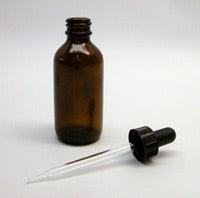 Eye Dropper Bottle, Amber, 2 oz.
SKU:
7103
Eye Dropper Bottle, Amber Flint Glass
DIMENSIONS:
Height:


With Dropper: 4.6"
Without Dropper: 3.7"

Pipette- Length: 89 mm
Cap Diameter: 0.9"

COMPATIBLE SHRINK BANDS:
1" Clear, Perf: S-12227
1" Clear, Non-Perf: S-12218
Black: S-17667
Safety: S-16283


MATERIAL:
Bulb: Monprene
Pipette: Type III Glass

CAPACITY:
Pipette: 0.8 cc's of liquid

USAGE:
Not leakproof or airtight.
While made of FDA compliant materials, it is recommended to clean before first use.