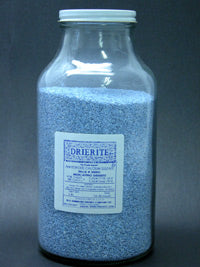 Drierite- Indicating Dessicant, Anhydrous Calcium Sulfate, 5 Lbs
SKU:
6186
5 pound jar. #10-20 mesh. Ne
5 pound jar. #10-20 mesh. Neutral in reaction, chemically stable, constant in volume, inert except toward water, non-poisonous, non-corrosive, and repeatedly regenerative. Dries gases at 75 degrees F to a terminal dryness of .005 milligram of moisture per liter of gas. Indicating Drierite is blue when dry and rose-red upon absorption of moisture. Regeneration: Heat in 200-225 degree C oven for 1-2 hours. *Non-indicating Drierite also available.