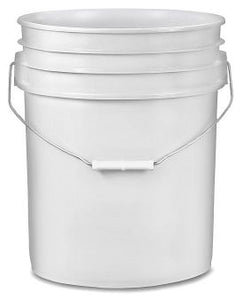 Five Gallon Bucket
SKU:
7240
*Lid Sold Separately*
Safely store or ship your products in these durable pails.
High density polyethylene construction withstands temperatures up to 180°F.
90 MIL
Stackable with lid. Empty pails nest for storage.
FDA compliant.
DIMENSIONS:
Height: 14 1/2"

Outside Diameter:


Top: 11 7/8"
Bottom: 10 1/4"
TEMPERATURE:
Filled Container: 0 - 180 F
Filling Container: 40 - 180 F
COMPATIBILITY:
Foil Liner: S-18139- 20 x 30" Food Bag
FEATURES:
Stackable with gamma seal lids.
CAPACITY:
Weight:


Maximum Load: 70 lbs
Liquid: .668 cubic feet
Dry: .778 cubic feet

Overflow: 5.4 gallons
APPEARANCE:
Marked with:


Child safety warning logo
Recycling symbol #2
Does not have measurement markings.

MATERIAL:
Pails with Metal Handles: Handle is galvanized steel.
USAGE:
Pails with lids are not airtight or leakproof, except when using Gamma Seal lids.
While made of FDA compliant resins, it is recommended to clean before first use.
SPECIFICATIONS:
Non-sterile
FDA compliant for direct food contact.
Not NSF Approved (National Sanitary Foundation)
Not UN rated.
Not UV rated.
Not DOT Approved.