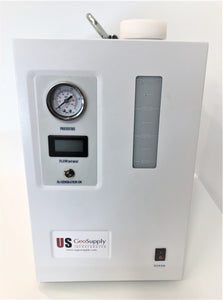 Hydrogen Generator - 110VAC, 60Hz
SKU:
9720
HGC-200 Hydrogen Generator - Specifically designed for use with GC FID or Flame Ionization Detectors in a mudlogging application. Make your HSE folks happy, stop lugging a tank of Hydrogen around.
US GeoSupply is proud to offer our first ever Hydrogen Generator that is tailored specifically for GC FID mudlogging applications providing low cost, portability, and overnight availability if needed. Our research has shown that most on-shore mudlogging companies logging with GC FID equipment are using tanks of hydrogen for fuel and carrier gases. Now there is a Hydrogen Generator at a price that's affordable so gone are the days of lugging around those heavy dangerous hydrogen cylinders. The Hydrogen Generator produces a continuous flow of high purity (99.999%) hydrogen from de-ionized water and electricity unlike what a lot of companies are buying. When purchasing the cheapest industrial grade of hydrogen tanks you are getting 99.2% to 99.9% purity but with our Hydrogen generator you are getting 99.999% purity with stable output flow. We've added a convenient carrying handle, operational consumables, and we'll ship the same day ordered anywhere in the USA.
High Purity Hydrogen (99.999%), stable output flow, safe and convenient to operate, various alarm devices (over pressure alarm, water shortage alarm, water accumulated alarm). High reliability and easy to maintain. Suitable for all kinds of Gas Chromatography like GC FID as used in mudlogging.