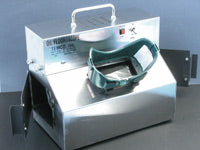 Oil Fluoroscope, 110V
SKU:
3125
Oil Fluoroscope, 110v;  On Back order, Long Lead Time,
Please call for approximate delivery date. 
Size: 15 x 12 x 12" Weight: 16 lbs. Material: Heavy gauge stainless steel, welded construction. Light: One visible light incandescent bulb and 4 high-intensity, integral filter, long wave UV tubes (F8T5-BLB). Viewing port: 2x lens with soft rubber goggles. The Oil Fluoroscope is the most powerful ultraviolet viewing cabinet in our line. The light source is easily removable for hand-held applications. The high-intensity UV light this unit produces makes it possible to use it in situations where ambient light is usually too bright for UV examination. This proven design has been used for detection of hydrocarbons in drilled cuttings and cores, both in the laboratory and under the most severe oil field conditions.