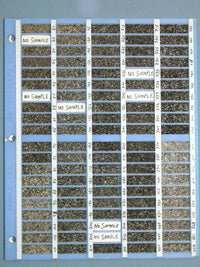 Sample File by Petrocraft
SKU:
5625
Sample File by Petrocraft
Sample File by Petrocraft. Size: 8 x 10"; Capacity: 100 slots or 1000' of 10' samples. Construction: Plastic slotted base; self-adhesive backing; vinyl cover. Scale: 5" to 100'. Drill cuttings are mounted on Sample File to give very broad overview and large capacity storage. 10' samples mounted in Sample Files can be compared directly to detail logs. Tear-off mask assures contamination-free filling. Otherwise, fill in the same manner as Petrolog CAT. NO. 5600. The Sample File is designed to be stored in a standard three-ring binder or to be included in the well site geologist's report. Perfect for in-house sample storage, or as an easily accessible supplement to samples in warehouse storage.