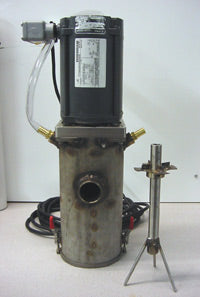 USGI 5" Gas Trap 1/3HP 120V/220V
SKU:
8431- 1/3HP
NO LONGER AVAILABLE
USGI 5" Gas Trap with 1/3 HP Leeson motor available in either 120V or 220V. Please Note: You must specify voltage requirements in Customer Notes when ordering.
The USGI 5" mud logging gas trap agitator is specially designed to fit into the Mongoose style Possum belly. It is fabricated entirely of Stainless Steel. The mud logging gas trap agitator is designed to be less sensitive to fluid level fluctuations, and is ventilated to help prevent mud being sucked into the sample line. It comes equipped with the USGI universal mounting bracket for mounting on the Ratcliff style Trap Jack, or on a post-type Trap Jack. The impeller shaft is designed to accept either the USGI stainless steel mixer /impeller blades, or by request, the Ratcliff polypropylene flexible shaft fingers. The USGI 5" gas trap comes with a GE ¼ HP motor with a ½"shaft and a 50 foot cord. This has become the standard go-to mud logging gas trap agitator for many mud logging services companies in the Rockies and throughout the USA.
NOTE: Because of the conditions at the possum belly, there is no warranty on the motor.